We are here to make life easy for our customers. Therefore, it is central to us that our products provide customers with Quality, support, service, and Functionality. We want to continue to do what we are good at. Therefore, it is crucial to maintain our quality standards. In this process, it is essential to contact the end user so that our products offer the perfect problem-solution fit.
To successfully introduce our brand new 'cup concept', we also thought it was important to have the products tested and assessed on the look & feel. All products of the cup line have been tested by Chantal! For 1 week she used, tested, and eventually assessed the products. On the basis of a questionnaire, she has offered us insight into her user experience and will share her assessment with us. 
We asked questions within three themes. Theme 1 is the packaging, since purchasing a product all starts with first looking at the product's packaging!
1.What do you think of the look of the packaging? 
The packaging immediately has a nice and sleek look! In addition, the packaging clearly shows what is in it and which product you are dealing with.

2. It is essential with our FSC packaging that a quality standard is observed. What did you think of the quality of the packaging? 
In my experience, the packaging material felt sturdy. I experienced this as pleasant because it feels solid. 

3. The packaging explains how to use the product using action photos. Does this explanation make the use of the product (un)clear? Please explain why it is or is not clear. 
What has already been stated is that it is visible at a glance what kind of product it is. In addition, you can see the different handlings when turning the packaging. This explanation on the back makes it clear to me. 

4. There are 11 translations of the product name on the packaging and a QR-code that leads to a product video. Do you understand what everything means on the packaging, such as the descriptions above? If not, what not? 
All visible information and descriptions were clear to me. Unfortunately, the QR-code of the Cup ring did not work. I have not tested the QR-codes of all products, but I noticed that the QR-codes were not functional on the cup ring. 

[Answer from us: Indeed, the QR-code did not work when testing because these are brand-new products, and complete handling videos do not yet exist. These are in production, by the way! Until then, we have processed this feedback and are now directing the QR-codes to the webshop] 

5. Is the packaging legible? If not, what makes it more readable? 
It is readable for me. Possibly, for an older person, this is more of a challenge. However, in some small packages, it is not feasible to place larger ones. 

6. Were there still parts missing from the packaging? If yes, then what? 
The cup's packaging was challenging to open due to a sliding opening. Therefore, I will give you a tip to consider this later since it is more difficult for an older person. 
1. What is your experience? 
I like the cup, and it feels solid. Because the product is so sturdy, it is helpful for both adults and children. 

2. What do you think of the value for money? 
It is a reasonable price for the quality you receive. 


3. Name one advantage of the product: 
The products are sturdy. The cup can take a beating, so it's childproof as well! 


4. Name 1 disadvantage of the product:
The cup's sleeve smells very strongly at the start of use. After several washes, the smell is gone. 

5. What do you like most about the product? 
The handles are convenient to use with a child, but also to practice drinking from a regular cup! 

6. What do you think would make the product even better? Are there any features that you miss in the product? (Possibly what you've seen on similar products). 
If you want to focus more on children, you could also make a spout top that you can place on top. You can use the spout to use the cup longer with the children while practicing drinking. See the attached image.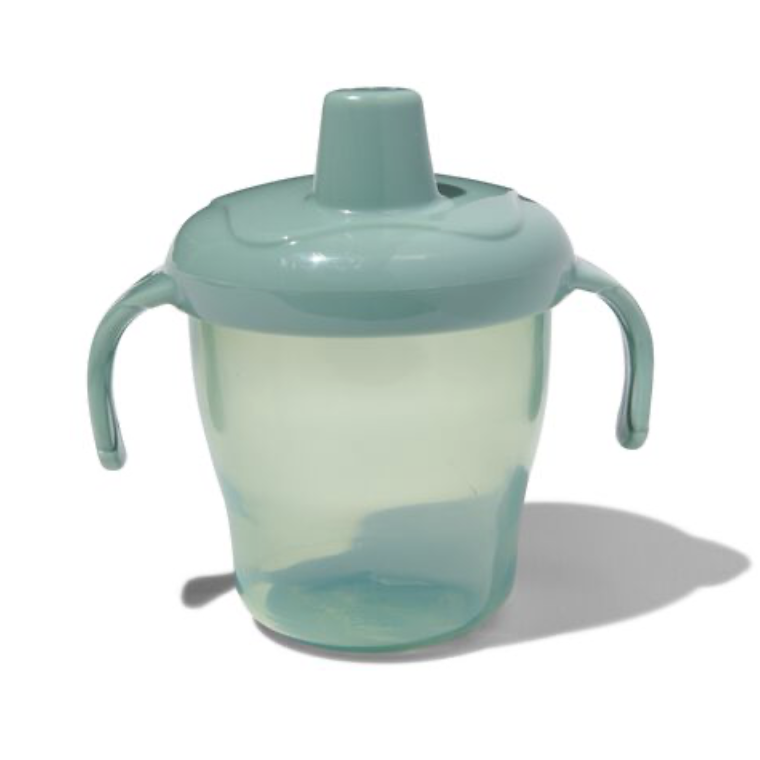 7. What do you think is the essential thing that the product must meet? 
The products must have good firmness. 

8. What problem are you facing, and does this aid offer the best solution? Kindly enlighten.  
As I mentioned earlier, I found the smell of the cup sleeve remarkable.

9. On a scale of 1 to 10, how do you like the product?
See the following pillars: 
Design –

Grade: 8 (got compliments at work on what a lovely cup I brought 😊)

 
10. Your information shows that you know as an employee in healthcare. We are very curious about your opinion on the products based on your expertise and background. Are these products recommended and suitable for the people you work with within the care sector? Please explain why or why not and what you would like to see differently from this perspective. 
As described above, you could also use this cup for children, such as practicing learning to drink from a cup or a child who is just learning to drink from a cup (which is the case with me). 
In my care area, I also work with older people, and then the cup handles are very friendly to use, especially those with both handles. In addition, a spout could also be helpful for the older target group.   
A top from me: you can drink hot and cold from it, and the sleeve around it makes it a good thermos function with hot drinks, and you don't burn your fingers/hands so quickly. 
In response to all questions, we would like to see a summary star rating. With how many stars from 1 to 5 do you rate the product or products? Mark the number of stars.
I give the products 5 stars.
★ ★ ★ ★ ★
We thank Chantal for completing the questionnaire and for testing the products! Thanks to this input, we can share experiences with you and ensure that our products are improved. We hope that Chantal will enjoy the products a lot, but judging by the grades, that will be fine!