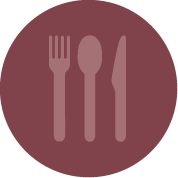 Eating and drinking is not only necessary, but it's also a moment of rest, relaxation, and a chance to socialize with everyone. We don't wish you a stressful experience during dining or cooking. Everyone should be able to experience a moment of peace and happiness during these delightful times.    
We have products that can offer that little bit of extra help. Suiting cutlery for your dinner, a cup that allows you to drink comfortably and in manageable amounts, and a plate that supports eating independently with one hand. Of course, we also offer effortless products for use in the kitchen while preparing your food.  
Have some help in your kitchen! 
We are committed to providing innovative products that make cooking more accessible for you. We offer a range of tools specifically designed to help you overcome the challenges you may face while cooking. 
For example, our ergonomic knives provide a secure and comfortable grip making it easier to slice, chop, and dice food with precision and control. We also offer multifunctional easy-to-use openers, including can and bottle openers, jar and cap grippers. 
All of our products are designed and tested to ensure that they meet the highest standard of quality and usability.  
We want to make cooking more accessible for everyone! 
Products designed to assist people while drinking can greatly improve their independence and quality of life. These products come in different forms, including cups with snouts or notches that make it easier to drink without spilling, cup handles and cup sleeves that provide a more secure grip. 
These products can be helpful if you, or someone close to you, is dealing with cerebral palsy, multiple sclerosis, or Parkinson's disease. In addition, it is ideal for older adults who may experience age-related decline in fine motor skills or grip strength. 
Ultimately, these products promote independence, dignity, and enjoyment while drinking.  
By offering a range of options and solutions, we can ensure that everyone can fully enjoy food and drink. 
We are proud to offer a range of clever products designed to assist you while eating.  
Our ergonomic cutlery help with limited grip strength or dexterity to eat with greater ease and comfort. The handles are specially shaped and textured to provide a secure and comfortable grip.  
The plate rims help prevent food from spilling over the edge of the plate, which can be a common problem with limited mobility.  
We are committed to helping you with disabilities to enjoy a better quality of life, and our products are just one way that we are working to make that a reality.