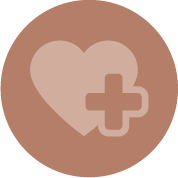 We have a wide range of products to support health and physical therapy. In addition to an extensive range of medical accessories, some products focus on movement and recovery. 
Unfortunately, our bodies don't always do what we want them to. Sometimes we need some extra support to recover or to avoid injuries. We offer bandages and arm slings that fit comfortably and support the body. It may be necessary to take medications and supplements to maintain good health. Therefore, we offer pill boxes in all shapes and sizes. For daily use, for a week, use at home, or on the go.  
Let's take care of ourselves!   
Taking pills can often be challenging and overwhelming if you depend on them. That's where our range of pill aids comes in. That's where our range of pill assistance products comes in.
We have advanced pill assistance products like our pill-splitter and pill crusher, handy tools that help you split pills accurately and crush them into fine powder. For example, our pill pusher helps you push the pills out of blister packs. Finally, the pill processor is a product that has five functions that help you with your pill intake.
Our pill boxes in different shapes and sizes help you keep track of pills and take the correct dose at the right time.
With our pill intake products you can take pills and supplements safely, efficiently, and accurately, ensuring that you stay healthy!
Our products play a crucial role in rehabilitating, maintaining your health, and improving your quality of life.
We have bandage wraps that support muscles and joints, reduce swelling and inflammation, and promote healing. The arm and wrist slings keep the arm and wrist in place, promoting recovery after an injury. In addition, our collars come in different sizes and support the neck and spine, helping with neck pain or whiplash injuries.
Finally, our massage balls, jelly grips and rings help relieve muscle tension and stimulate sensation from the nerves.
Overall, these products can aid in rehabilitation, help maintain physical health, and improve daily living for you.