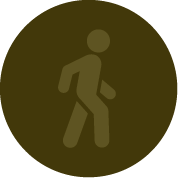 Mobility is an essential part of everyone's daily functioning. We link mobility and freedom closely to one another. Vitility has products that ensure you retain as much mobility as possible for as long as possible. Safety and quality are always our top priority.   
These various products support walking, which includes crutches, different kinds of walking canes, and rollators for inside or outside use. You could also think of 'Mobility' as moving freely, like being able to pick things up. With our diverse reachers, nothing is out of reach. We offer solutions in different sizes with multiple features. Do you sometimes experience trouble getting up from a seat or out of your car? Vitility has different types of cushions.  
Let's move around freely!   
We understand that when you have a physical disability staying mobile can be a big challenge 
However, aids such as (foldable) walking canes and crutches can enable you to move around more easily and confidently. 
These products support and stabilize you with mobility problems, help you keep your balance, and prevent falling. In addition, accessories such as ice picks, holders, wrist straps, and rubber tips can enhance the functionality and versatility of walking canes, making them even more helpful to you. 
With the help of these assistive products, you can maintain independence and enjoy an active lifestyle. 
Our products can make a significant difference in your life, enabling you to move around with greater ease and independence.  
For example, key turners can be helpful if you have limited hand dexterity and want to open doors more easily. Our reachers can help you with mobility issues to pick up objects from the floor or reach items on high shelves. Back and sitting cushions can provide comfort and support when you spend a long time sitting or experience back pain.  
With the help of these products, you can maintain mobility and independence, enhancing your freedom to move.